Hi Reader,
Happy Saturday!
​
How is your weekend shaping up?
I've been so busy I forgot to share a photo of the full moon on Tuesday. This was taken with my iPhone but I did take other photos with my other camera which were quite a bit more zoomed in.
​
I only transfer photos after dark, because Murphy's Law, I'll be downloading my SD card and inevitably, a cute bird will come and pay me a visit. Lesson learned!
To be honest, the worm moon was a bit of a letdown. I've seen spectacular moons when I wasn't even expecting it so I can either take my chances and be pleasantly surprised if I get the opportunity to see it, or never miss it but run the risk of being disappointed.
​
I guess the name "worm" in and of itself was a hint as to what to expect. Still very pretty though and worth the venture out into the night. Even though it was crazy windy in the parking lot, there was almost zero wind by the water so that was a nice little bonus. I might have better photos to share with you tomorrow.
​
Don't forget to set your clocks forward an hour tonight if you are in a region that follows Daylight Savings Time.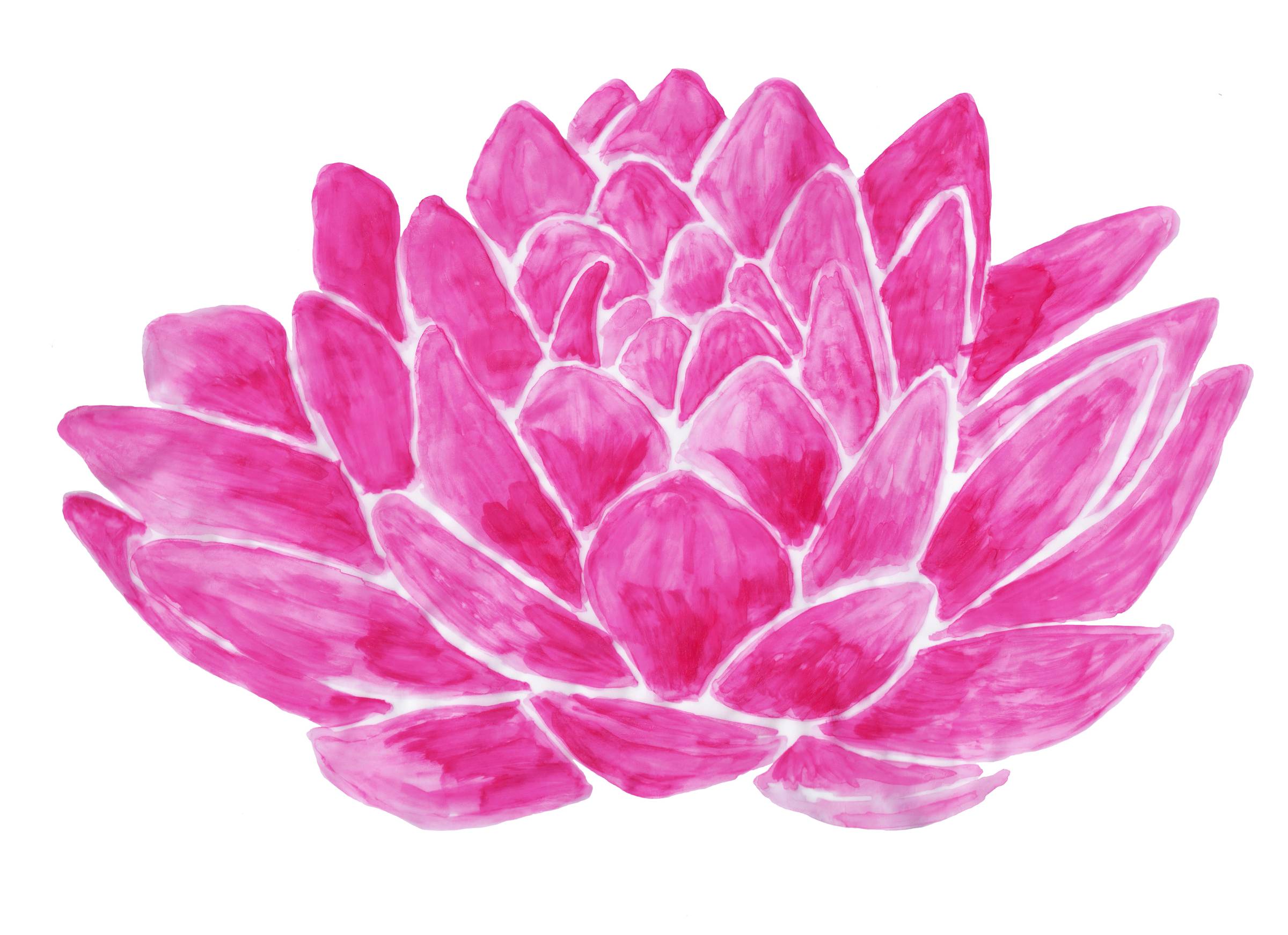 It looks like there's some interest in learning how I use totally free and/or cheap tools to make a lot of the images I've been featuring over the last few weeks so I'll be giving this a lot more thought over the weekend.
​
If you're interested in learning how I use totally free and/or cheap tools to make images like this, click here. (Note: clicking this link won't take you anywhere. It just records your interest so I can make sure to notify you if and when this course becomes available - and offer it to you at the lowest price.) If I get enough interest, there might be a training out sooner than you think. Don't forget I'm still taking a poll to find out if there is interest in learning about how I created my initial tripwire landing page using entirely free tools. Click here if you want to learn more about that training. 💗
​NEW: ALL ACCESS TODAY, GONE TOMORROW​
Jennifer has brought back her super popular All-Access Pass until tonight at midnight. I am a huge fan of her Health & Wellness products and have this pass myself.
If you need health-related content for your website, blog, email list, with this lifetime deal you'll literally be set for life!
​
The value is well over $6,500 worth of content which includes access to every product ever released in her store from past, present and future, including access to 168 retired products that can no longer be purchased.
In addition, you'll be receiving access to brand new content to the tune of apx. $2,000 in printable items, and other marketing materials, year after year, on top of what's already lining the digital shelves.
​
You'll receive:
​
Access to every product ever released in this store (427+ and counting at the moment)
Access to all future releases in this store (2 per month, minimum currently)
Access to 168 retired products that cannot be purchased now (this is included in the 427 in total)

There's so much widely spread health & wellness content and a huge variety of printable items in this store that you'll be able to put out tons of new content, create your next product or lead magnet, cultivate an email list, build out your blog, or seriously anything else that you choose to do.
​
Check out a full list of all the products available on her website. This sale is supposed to be over until tonight at midnight.
✨BONUS OPTION 1 - If you purchase the All-Access pass through my link, choose two deluxe bonuses and two 30 minute Biz Coaching Sessions with me. You can check out those options on my bonus page as well as check my testimonials and learn more about me here.
✨ENDS TOMORROW! A WOO EXTRAVAGANZA! ✨
You only have until tomorrow to grab Val & Rayven's amazing Spiritual Entrepreneur Bundle as well as my biggest bonus pack to date. I just started creating planners so these are the equivalent to the first born child. Lots of extra time and consideration went into those so make sure you grab them while you can as you can't find them anywhere else so read below if that's something that interests you. (I also have a little update on the additional pack of papers too so see info on that below!)
​
If you're a coach, blogger, healer or someone who gravitates towards the woowoo, this amazing bundle is packed with resources to help you tap into the power of your intuitive wisdom and align with like-minded, experienced spiritual entrepreneurs who have achieved mastery in blending business savvy with spiritual wisdom success.
My contribution to the bundle is the Mystic Love Watercolor Paper Pack.
Here is the full list of participants. I've highlighted a small handful of the ones I'm excited about:
Marilyn Alauria - The SASS Experience - $997

Colin Yearwood - Heart-Aligned Selling for Spiritual Coaches - $197

Rayven Monique of Abundability - Vision Board Workshop - $97
​✨As a member of Rayven's 11:11 club, I'm familiar with what an incredible speaker Rayven is and have been eyeing this Vision Board Manifesting Workshop which is going to be more than just your average vision board workshop. On its own, this product sells for twice the cost of the bundle!

Gabby Conde of A Cup of Zen - How to Use Prayer to Manifest What You Want Exercises & Journal - $37

Ann Hession of Soulpreneur Success Code - New Client Accelerator Program - $768

Sue Pats of MynuBeginning.com - Spirituality for Prosperity Masterclass - $97

Ruth Bowers of Ritchie Media - 25 Mandalas to Color (and ideas on how to use them) - $47

Cooper Gillespie of Becoming Infinite - Challenge in a Box - $37

Ana Tarouca of My Fair Ladies Printables Boutique - Zodiac Women Planner Templates - $27

Jenn Brockman of Planning Addicts - Grimoire Revamped - $30

Rayven Monique of Color Monthly PLR - Colorful Bucket List Planner - $52.50

Damla Bozkurt Aktekin of A Drop of Om LLC - Deepen Your Healing - Recorded Crystal Healing Session Bundle - $44

Melanie Dougherty of BittySpireLife - Solar Plexus Chakra "How To" Guide with Printable Affirmation Cards - $27

Bronwyn Simons of Bronwyn Simons Astrology - Practical Astrology for Business Planning - $98

Laurie Jonas of Living Marvelously, LLC - Creating Infinite Possibilities for Abundance Online Course - $111

Brittany Fagan of EPIC Woman - Expansive Journaling Practices - $33

Renée Stotz of Soul Alchemy Branding - I AM Collection Visual Meditations - $47

Virginie Vandeuren of Oxyp Design PLR - Spiritual Quotes Coloring Pages - $37

Gaia Girus-Nowoczyn of Empowered by Gaia - Unlock the Gates to Plenitude - €47 ($51)

Jennifer Lyall - Intuitive Business Decision Making Blueprint - $49

Joanna Ingram - Magnetic Messaging & Content Mini-Course - $47

Jillian Ferraro - Mindfulness Dashboard for Notion - $29

Kerrie Mullins-Gunst of KMG Consulting - Authenticity - $27

Tanya of The Peace We Crave - Positivity Self-Assessment - $27

Jilanne Holder of Soulful Planner - Soulful Mindset Journal + Improve Your Mindset Hub - $49

Karen Burke of Mad Moose Mindfulness - Pathfinding with Human Design - $37

Jackie Ruggiero of Active Mom Printables - Self Care Journal & Workbook - $37

Andrea Allen of Living Simply Creative - Building a Positive Mindset Blog Posts Bundle - $27

Bao Yang of Bao Yang Coaching - Effective Self-regulation 101 - $97

Estelle Defrance of PLR for Your Success - DFY New Beginning Wall Arts PLR - $27

Lara Champion of Tales From the Rouge - Mystic Love Watercolor Paper Pack - $37

Sarah Pritchard of Angel Cuddle Publishing - Get What You Really Want Step by Step Cosmic Ordering 21 Day Course - $55Maria

Ramirez of Blue Rain Orchid - Spiritual Self Care Journal - $

Molly Lambert of Moonlovers Magick - Ultimate Manifestation Journal - $27

Cayla Twerdochlib of Deeply Rooted Healing - Inner Hunger - $67 CAD ($50 USD)

Gregory Reece-Smith - Moving From Survival To Freedom - $47

Cait Byrnes - Magical Marketing Masterclass - $69
This bundle has a total value of $3,600 - but you can grab it for only $47! This bundle ends on March 12th.
✨BONUS - If you purchase Val & Rayven's bundle using my link, choose either:
​
1) Two deluxe bonuses from my bonus page.
OR:
​
2) Grab one deluxe bonus as well as my brand new Intuition Planner which will have a minimum of 42 pages. I'll also gift you the companion Journal Prompts workbook which will have a minimum of 27 pages. (Watermarks will be removed from downloaded files.) These will both be fully editable in Canva and come with commercial usage.
In addition, I'll also gift you some gorgeous goodies such as a minimum of 8 pieces of watercolor papers for covers, dividers, wall art, backgrounds for planners, etc. like the ones shown below. (Note: These images may differ from the ones shown here.)
UPDATE: One thing I forgot to mention. You'll be able to sell this additional set of papers commercially AS IS. Without having to change anything.) The planners and artwork aren't completed yet and I've had a little setback so I should have everything ready and available in your dashboard by next weekend. (March 19th.) Sorry for the delay but I promise, it will be worth it!
​NEW: FREE TRAINING​
​
Monica Froese is holding a free, 5 day workshop called the Digital Shop Accelerator to help you learn to grow your digital product store the right way.
​
​During the sessions, she'll teach you how to build your digital product shop, how to make your products more visible as well as boost sales.
​​
​This free workshop runs from March 20 - 24th. Make sure to grab your spot and be ready to take lots of notes.

​ENDS TOMORROW: CONQUER VIDEO CREATION​
Faith Lee has just come out with a brand new course called Video Creation 101.
​
Faith has created over 60 courses so she knows a thing or two about making them. And Faith does EVERYTHING on her own — recording, editing and listing so it's safe to say, she knows her stuff.
​
In this course you'll learn:
Why you should create videos to help you grow your online business

Recommended tools for video recording and editing

Tips that will help you record and edit like pro in no time!

Pros and cons of using different video recording and editing platforms including Canva, Zoom, Loom, Screencast-o-matic, and Vimeo. (Faith has tried and tested all of the above and will share with you which platform is the most comprehensive all-in-one solution and how best to use which platforms for specific purposes)

Practical step-by-step lessons to show you how to create and edit your own videos on Canva, Zoom, Loom, Screencast-o-matic, and Vimeo.

How to list your video on YouTube and insights to how Faith starting monetizing her YouTube channel 6 months after she started it.
If this is a subject you've been interested in tackling, grab this course during launch for $130 off for $67.

✨SPECIAL BONUS - If you purchase Faith's course, I am offering a special bonus! Choose from two options:
​
A) Choose two deluxe bonuses from my bonus page.
​
B) Choose a deluxe bonus and in addition, I will also do a video review and give you my professional expertise and feedback on a video you create (maximum 10 minutes.) Consider it customized feedback on the video you will create as a result of taking Faith's course
​
My feedback will be sent via email and could include a video recording. Many of you know I've been a writer/TV producer for many years. You can check out on my about page which includes testimonials here. If having to create a video stresses you out, you can also send me an existing video to review - or save your video for when you are ready. Remember, my bonuses do not expire but I really want you to take action on this one so please send something to me by June 30th. That's plenty of time right? You can save your deluxe bonus indefinitely though.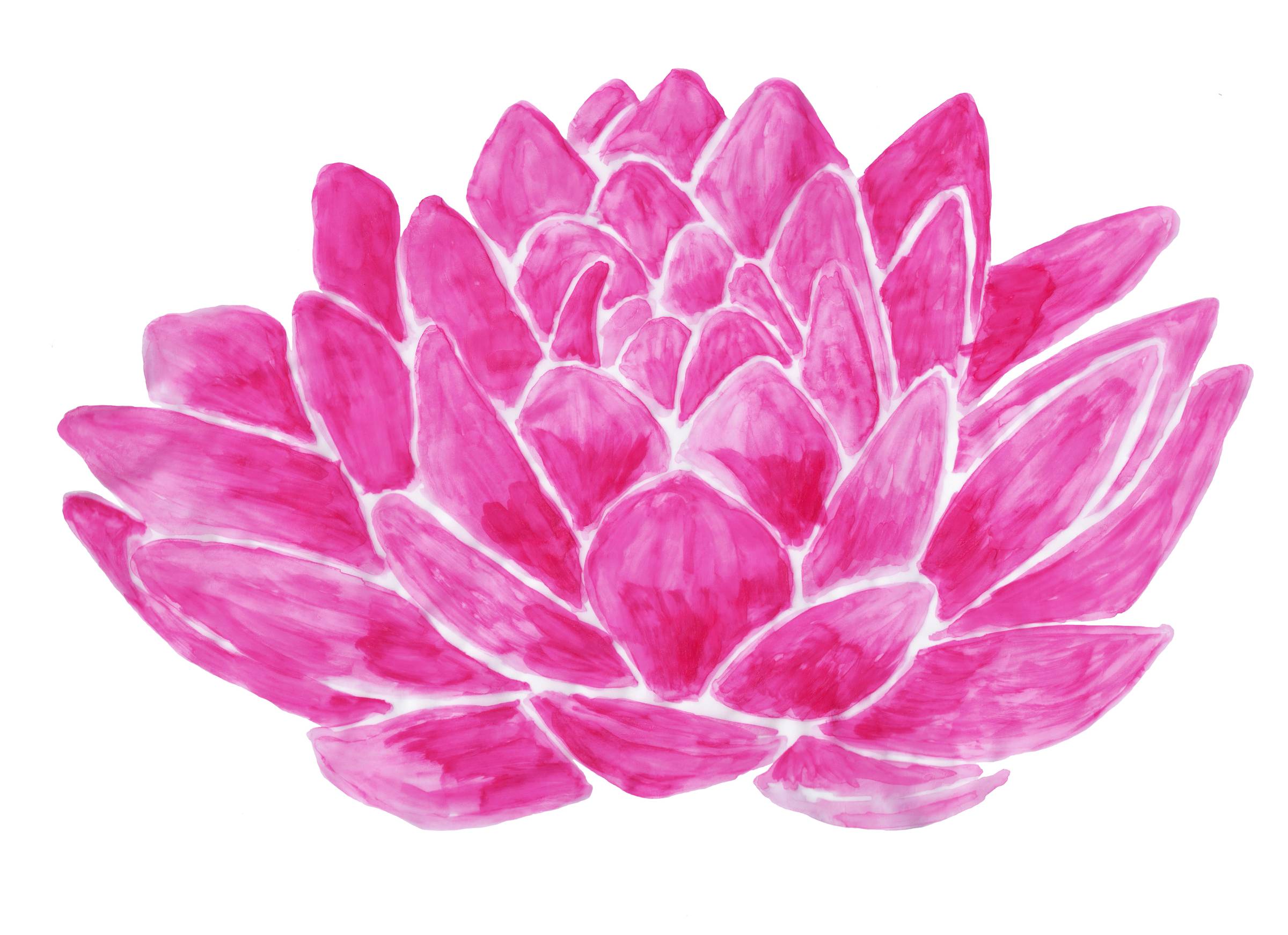 Luke Bowes over at Bowes Publishing has just come out with the brand new Akari (Light Up) Puzzle Generator For PC/Mac MONTHLY.
​
Akari is a logic puzzle game played on a rectangular grid, where the objective is to light up all the cells in the grid
If you're interested in generating your own unique set of Akari (Light Up) logic puzzles, the software comes with full commercial rights to the puzzles you create, meaning you can do anything you desire with them.
Put them in a book and sell them on Amazon KDP or elsewhere. Sell the puzzles you create to others. Add them to an activity book or as a bonus. The possibilities are endless!
Even better, your purchase of the Akari (Light Up) Puzzle Generator comes with access to the Bulk Image Importer FOR FREE! This will allow you to bulk import the puzzles (choose how many per page) you generate into a PowerPoint, Open Office, or PDF file that you can then further edit in PowerPoint, Open Office, Canva, Google Slides, Affinity Designer, Photoshop, Illustrator... you name it!
​
Choose your export format (PNG, JPG, BMP), image size, and locations for your puzzles and solutions. Hit Done and then you are back on the main screen ready to generate. Easy right?
​
Also, if you'd like to check out the quality of Luke's puzzles, make sure you check out Luke's brand new Mega Pack LITE: Free Content Creation Tools which is totally free.
​
Right now, you can subscribe to get notified of the Akari launch, which is coming out shortly, and will be $4.99 a month.

​WONDERFUL WORDPRESS​
​
My friend Aimee from Imperfectly Aimee K. has launched her brand new course, WooCommerce for WordPress Training.
​
This training is perfect for someone who already has a WordPress site or is planning on using WordPress and wants to add a WooCommerce shop, which is absolutely free, to create income.
​
At the time, Aimee didn't have a lot of extra money to spend on sites like Shopify and Etsy and wanted to be able to set up her store absolutely free! Now she's showing you her step by step process to save you the struggle of trying to learn it yourself using bite-sized, step-by-step screen-recorded videos so you can start making more money
If you were thinking about getting a WordPress site and are on a tight budget and aren't ready to make the jump to aMember Pro or ThriveCart yet, this is the course for you!
​
I had a whirl through the course and she packs a lot of great information into her two modules. The first section is all about setting up WooCommerce. The second module walks you through setting up WooCommerce and Yith WooCommerce Affiliates on your WordPress site.
​
The information is great but it isn't a super sprawling course by any means. However, Aimee has told me she plans on continuously growing this course and has lots of elements to add to future trainings as she wants this to be a one stop WooCommerce training.
From now until March 20th, 2023- grab this training for ONLY $47 using coupon code WOOC23. After this time, the course will rise to $97 so lock in your best price while you can.
✨ BONUS - If you purchase Aimee's course, choose two deluxe bonuses from my bonus page.
​KDP COLORING BOOK TOOL IS LIVE!​
If you've been interested in generating passive income and want to get serious about KDP, look no further than Self Publishing Titans.
​
​Normally $297 this course is currently on sale for only $97 for a limited time!
​
​With 107 lessons in this course, this is the most comprehensive KDP training I've seen and walks you through every aspect of Amazon KDP publishing!
​
​Even better, if you've been on the fence about joining, their brand new Coloring Book Maker tool is LIVE and only available to Self Publishing Titans members who will receive early access and an additional discount for a few more days.
​
​The cost of the software will be $149 $139 for Masterclass students until March 13th. This includes lifetime access to over 5,000 coloring elements in 150+ categories. The cost for non-beta price students is still to come. I previewed the coloring tool and the software is a lot like Canva with a ton of easy to use features.
​
As someone who bought a membership for a coloring book generator in the past and was completely disappointed in the quality, not to mention the cost of this "software", this is something I'm excited about! (If you're not interested in this course but want to grab this coloring book tool, I will keep you posted on that.)
​
If you're curious as to who the course creators are, in the very first module, Corvin walks you through how much revenue him and his wife Cleo have made since starting three years ago. At the time of them recording that video (June 2022) they had made close to 300k!
​
Here is a screenshot of the breakdown that Corvin shared of the royalties him and his wife have earned in each of their KDP accounts over that period:



​
That's a huge accomplishment in a very short time, selling over 120,000 books, and with KDP, those numbers are just going to increase over time. Of course, that's not to say that anyone can just do it. Which is why they're teaching their secrets!
​
They also have fantastic research tools and other FREE resources for you to explore and take advantage of!
​
They've also created two new extensions which will aid in helping to find the best niches and evaluate whether they are worth exploring - both free for members!
There is also a 7 day refund policy so check out everything it has to offer with zero risk.
✨BONUS - Purchase the KDP Titans course and choose two deluxe bonuses from my bonus page. You can also hold onto your bonuses as my bonuses don't have an expiry date.
​
✨✨EXTRA BONUS! You can also choose TWO more of ANY of my collections that you've seen offered in a bundle or as a bonus that aren't up on my bonus page yet! If you need a refresher on what some of those bonuses are, just send me an email.
D'vorah Lansky has come out with a brand new course on how to Create a 7 Day Challenge Experience.
​
If you've had an interest in creating a course, creating a challenge is a great jumping off point before the next step into launching a full blown course.
​​What is taught in her course?
The 7-Day Challenge Experience Program, is designed to help you create your very own challenge experience program, based on your knowledge and the needs of your audience. You'll learn how to choose your topic, create a laser-focused outline, develop training and training materials, prepare your materials for delivery and set up your platform so you can begin enrolling students.
​A challenge is a great way to build an email list of raving fans in a cost effective way so that you can build up to launching a course.
​D'vorah also has a bonus on how to build out a course in Teachery.
​Other people choose to build out courses in Thrivecart, because you can purchase Thrivecart Learn for $150 after you have paid $690 to get the lifetime Thrivecart checkout system plus affiliate program.
If you want to sell a challenge, or have an affiliate program so that others can sell your challenge for you, you will have to get a checkout system such as Thrivecart to manage the payments.
​This course would be perfect for anyone wanting to begin their course creation journey in the digital products space.
You can grab her course for $147 with code CHALLENGE50 during the early bird pricing period.
✨ BONUS - If you purchase Dvorah's course, choose three deluxe bonuses from my bonus page.
Chelsea from PLR Friends has come out with a brand new done-for-you Digital Recipe Book.
​
Carry your favorite recipes with you wherever you go. Keep up to 210 recipes organized on your tablet or iPad. Easy to use with any notetaking app such as GoodNotes. There are 230 fully hyperlinked pages. You also get 28 hand-drawn clipart not sold anywhere else.
​
You will receive:
Fully Editable PowerPoint File

Fully Editable Keynote File (for Mac users)

Ready to Use PDF File

230 page fully hyperlinked

28 Unique Clip-Art (drawn in-house)

Private Label Rights
Take $20 Off (Reg. $37) with code DIGITAL20 through Sunday March 19th.
✨ BONUS - If you purchase Chelsea's planner, choose a regular bonus from my bonus page.
Lynette is out today with a brand new offering: The Customer Service SOP Builder.
​
This workbook will walk you through how to equip your team to serve your customers.
As a leader, it's up to you to train your team so they can represent your company well and give your customers the best service possible. But training people takes a lot of time and energy. You have to do the same thing over and over as you grow. It's certainly not the best use of your time or talent. What you need to do is document your procedures and policies but where do you start?
This workbook will help you document your customer service procedure. It covers all the core aspects of customer service, such as customer communication, problem solving, and complaint handling. With this workbook, your customer service will soon have the guidance they need to provide outstanding service.
This is perfect for coaches, marketers or bloggers since it comes with commercial use license, allowing you to rebrand it to sell as your own or use with your clients with no design work or content writing. It's all done for you. All you need to do is download, rebrand, and sell.
Right now, you can grab it for $23 until March 14th. After that, the price will rise to $47.
✨ BONUS - If you purchase Lynette's planner, choose a deluxe bonus from my bonus page.
Amy Harrop is back with EDU Printable Decor Made Easy.
In her brand new course, Amy reveals how to quickly sell these highly in-demand digital classroom decor printables...No experience needed!
Use coupon code DECOR10 to take an additional $10 off.
​
The sale is on until March 15th.
✨ BONUS - If you purchase Amy's course, choose two deluxe bonuses from my bonus page. You'll also receive an extra deluxe bonus for every upsell you purchase.
​GET ON THE WAITLIST​
​
Liz Wilcox spoke earlier this week at The Rebel Boss Summit and her presentation was amazing!
She shared how much she made in 2022 from her membership, so you can see that she has a legion of happy members willing to throw money at her - and for good reason!
​
Right now, Liz is prepping for her annual sale of Email Marketing Membership from March 20-24th. That's where people stampede to grab a year of her low cost $9 membership and receive access to ALL her products for free!
​
If this is something you've been waiting for, you can head on over to Liz's site and sign up for her waitlist to get notified when the doors are open.
If you're struggling to connect to your audience, Liz's membership is a fantastic fit for any online business owner who finds email to be complicated, stressful, time consuming, or just don't know what to say.
Liz's membership caters to businesses of ALL kinds:
Bloggers + other content creators
Service providers of all kinds
Coaches + consultants in the corporate space
Ecommerce
Photographers and other local businesses
If you're not sure, that you want to invest in a year outright, I suggest joining for $9 to see if you like her style. If she resonates, then upgrade when her annual sale goes live.
Roxy from Creative Mama Designs has just released a Mega Digital Fitness bundle which comes stuffed with extras.
This bundle includes everything from a stunning 69-page hyperlinked digital fitness planner to a set of 5 fitness-themed social media posts, coloring pages, and stickers, this bundle has it all.
Plus, with private label rights included, you have the freedom to customize and rebrand the products as your own, making your fitness brand truly stand out from the competition.
​
Only $17 until March 15th.
✨ BONUS - If you purchase Roxy's bundle, choose a regular bonus from my bonus page.
MaryJo from Cool Bean is back to celebrate Women's Day with her brand new Women's Health & Wellness Planner. Only $12 during her launch. (Reg $27)
This comprehensive planner template is a perfect way to help women prioritize their health and wellness. It has everything needed to help your clients or customers with improving their health and wellness with self-assessments, setting achievable goals, tracking progress, and more.
For wellness it includes:
Self-assessment
Daily wellness journal
Mind & body wellness goals
Stress relief
Self-care routine setting
Skin-care routine
Mood tracker
Habit tracker
Vision board
​
And health:
​
Setting health goals
Insurance/physician info
Period cycle tracking
Sleep log
Doctor visits
Therapy notes
Medication/supplement logs
Body measurements
Water intake log
Exercise log
Blood pressure log
The template is editable with a free or pro Canva account.
It has 34 pages and includes A4 and US letter sizes. She also has a Wheel of Life planner available for $7 and a Menopause Journal planner for $9 (both with PLR.)
The sale is in on until Sunday, March 19th.
✨ BONUS - If you purchase MaryJo's planner, choose a regular bonus from my bonus page.
​SELF LOVE PROMPTS​
​
Lori Winslow has just come out with a brand new release: Self Love Prompt Journal PLR Pack in four unique versions.
​
Each version features the same 60 thought-provoking self love prompts.
The Single Prompt Per Page journal offers a simple and straightforward approach, with each page featuring one powerful prompt.
For a more comprehensive experience, the Three Prompts Per Page version provides a trio of thought-provoking prompts on every page.
The Stylized journal takes it to the next level with its beautifully designed pages and prompts, encouraging creativity and mindfulness.
And you can also offer your customers a more unique and interactive experience with the Card Deck, featuring 9 prompts per page.
60 Unique Journal Prompts

4 Unique Layouts

PowerPoint & Canva Files

Full PLR Rights
Use coupon code: SELFLOVE to save $20.
​
This sale is on until Monday March 13th.

✨BONUS - If you purchase Lori's PLR pack, choose a deluxe bonus from my bonus page.
Rayven from Color Monthly PLR has just released her Monthly Membership Collection sale.
For one week only, she has a monthly theme collection sale which includes PLR rights on these professionally designed coloring packages.
The Monthly Theme Packages are designed to flow around everything from seasons and holidays as well as traditional coloring pages, seasonal quotes, monthly calendars, daily to-do lists, and even dinner planning pages.
​
Every Monthly Package Includes:
10 Mandalas
​
5 Pattern Pages
​
5 Seasonal/Theme Pages Featuring a Quote
​
3 Seasonal/Theme Pages Without a Quote
​
3 Gorgeous Everyday Designs
​
5 Calendars/Planners
​
2 Illustrated Affirmations
​

Cover Page
A total of 33 custom pages, with a theme depending on the month.
​
All images in JPG and PDF format. The Planner Pages (Weekly Planner, Daily Planner, Menu Planner, Calendar and Gratitude Pages) also include editable PSDs.
​
Check out the website for all the details on each monthly theme and prices. This sale runs until March 13th.
✨ BONUS - Since there are too many prices and options for me to get my head around, email me if you're interested in Rayven's offer and let me know which package/plan you have your eye one and I will let you know what bonus is available. 😉
​JOIN THE 1111 CREATORS CLUB!​
Not too late! Rayven just launched her companion membership, The Creators Club, which is a deeper dive into the eight Core Abundance areas of life (think love, money, adventure, health, etc.) This is an extension of her super awesome 1111 Club (her $11 a month membership about manifesting.)
The membership is increasing to $44 a month soon, but to celebrate, she's giving founding 1111 Club members a huge gift! If you join now, you can lock in your rate and you'll receive access to BOTH portals & support groups!

Join as a founding member and get everything you want in life FAST & finally get the Law of Attraction to work for you along with live coaching, Law of Attraction training, manifestation strategies, & community support.
​
Most coaches charge anywhere from $97 to $497 per month for this kind of access but you can join this club and create abundance for just $11.11/month.
​
Grab it here before the price goes up!
If you want to up your email marketing game this year, ConvertKit has just announced they are working on a brand new product that's going to change the game for creators like you.
​
​The Creator Network will make it easy for you to discover other awesome creators and help each other to grow your email lists together. These recommendations will be creator-controlled, not powered by an algorithm. It's based on creators helping other creators.
​
If you're already on ConvertKit or have wanted to try it, this is your open invitation to their waitlist ahead of the general audience and be the first to experience the power of the Creator Network. By signing up for the waitlist, you'll have the chance to gain hands-on experience growing your own audience with the Creator Network, so you can pass on that knowledge to your followers.
een very interested in tackling, grab this course during launch for $130 off for $67.

​HALF OFF EVERYTHING!​
​
Michelle from PLR Niche has decided to put her whole site on sale for the entire month of March to celebrate Crafting Month.
​
She has a lot of excellent, totally unique planners so grab this deal for 50% off everything in her shop.
​
Sneaky hack: I noticed there are two ways to access her products. You can access her site via her shopping cart but if you check out her blog page, there are a lot more products included which aren't found in her cart, so you can find some neat things you wouldn't otherwise!
​
Some of my favourites:
​
Her What to Wear Planner PLR. Only $13.50 with coupon!
Her Gamer Journal PLR Planner (which she designed with her son.) $17.50 after discount.
Her Bird Watching Journal PLR Template. $18.50 after discount.
Michelle has also mentioned that one of her most popular planners is her Final Wishes Estate planner which you can pick up in a bundle.
​
Use the coupon code CRAFT50 as as many times as you want. The discount is available until March 31st at Midnight CST.
✨BONUS - For every $20 you spend after coupons have been applied and before taxes, grab a regular bonus from my bonus page.
Tracy and Susanne over at Piggy Makes Bank have announced they will close the doors to new members on March 31st and will not be reopening their doors again for the rest of the year.
If you are in need of done-for-you content and have been looking for simple ways to save time, each membership gives you:
​
30 new pieces of content (articles and blog posts),
30 customized email messages.
A full 6,000+ word eBook and worksheets to create paid products, lead magnets, blog posts, etc.
​
That's 30 Days of "Done for You" content EVERY MONTH to help you grow your list and inspire activity in your community. Build your list, grow your reach, and stop worrying about constant content creation.
​Business Membership​
This month's topic is "Launching a Home Based Business."

​Self-Help Membership​
This month's topic is "Training Your Subconscious Mind for Success."
​Health & Wellness Membership​
​This month's topic is "How to Promote Body Positivity."
Each membership is $27/month. You can also opt for their Flex Pass Membership and get ALL of them for $47 a month.
​
There's also a Mini Membership for $20 a month where you'll receive a new set of five articles perfect in the self-help, business & health niches along with emails, social media posts, and graphics.
​
Just click on any of the memberships that sound interesting for more info.
​CLUB PIN MARCH CONTENT RELEASED!
​
Melanie Dougherty's for March has just dropped in her membership community, Club Pin! Don't let the Pin part of Club Pin throw you off. Yes, there are pins, but there's so much more!
​
Her new content pack includes:
​
1. Anger Guided Journal - Version 1
2. Anger Guided Journal - Bujo Design - Version 2
3. Pinterest Pin Templates
4. Square Product Marketing Images | Mockups
5. Walk Through Video with Customization Tutorials
​
All for just $10 per month AND it comes with commercial usage!
​
And if that wasn't enough, you'll also receive all the items shown in the photo below!
1. Manifestation Guided Journal
2. Manifestation Writing Prompts - Extension Pack
3. Pinterest Pins
4. Square Product Marketing Images | Mockups
5. Walk Through Video with Customization Tutorials
Mel has also added a yearly option to lock in your rate and save an extra 20% (and get two months FREE!)
​
Grab this fantastic membership while you can before Mel comes to her senses and raises her prices.

✨BONUS - Yes! Because I LOVE Mel, if you purchase her $10 monthly membership, choose a regular bonus. If you purchase the yearly option, choose three deluxe bonuses or a custom four panel art portrait. Check out all the options on my bonus page. You can also save your bonuses for a later date as mine do not expire. 💝
Cherina of Cherie La Vie Designs has just launched her Digital Seller's Success Club membership where she teaches how to sell gorgeous printables.
​
If you're struggling to make consistent sales in your printable shop, the cost is only $17 a month during the launch. However, if you join through my link, you'll save an additional $5 off the original price every month, making the cost only $12.
In the membership you'll receive monthly 3 day design challenges, live trainings on selling and marketing techniques, and access to over 200 templates made in Canva! With all of this you'll be able to design beautiful low content journals and other printable products with ease.
​
The goal of the Digital Seller's Success Club is to help you make consistent sales, stock your shop, and start building your email list.
Monthly membership you'll learn how to:
Save time designing so you can make profit making printables quickly

Use templates to create an endless amount of planners

Tips and tricks for selling consistently in your shop

Create a gorgeous freebie to bring more customers into your world.
​
You'll also receive her brand new workshop, Create a Digital Planner in Canva (regularly $17, for free)
​
Cherina shares all the tips and tricks she has learned to take an existing Canva planner template and turn it into a hyperlinked and tabbed digital planner.
​
You'll also learn how to bundle your new planners to help you boost sales in your shop.
​
Check out everything you receive in the membership!
✨BONUS - If you purchase the membership, choose a regular bonus from my bonus page. You can also hold onto your bonuses as my bonuses don't have an expiry date.
​NEW UPDATE: DOORS CLOSING AT THE END OF MARCH!​
If you've been holding off on joining Leonie Dawson's awesome membership, Leonie just announced she will be closing the doors on the Brilliant Biz + Life Academy at the end of March!
Leonie hasn't said when she will open the doors next. It could be 3 months, 6 months, she isn't sure. So if you've really wanted to join but haven't gotten around to it yet, now is the time as you definitely won't want to miss out!
​
Leonie has earned more than 13 million dollars in her business, takes super long vacations for months at a time and only works a few hours a WEEK!
For only $99 a year (apx $8.25 a month) you'll receive access to Leonie's entire suite of courses along with coaching calls, upcoming workshops and any course she creates in the future!
I've purchased a ton of Leonie's courses and my absolute favorite thing about Leonie which I love about her so much is the live aspects of her coaching calls. You learn so much valuable info AND you also will laugh your butt off.
​
When Leonie did coaching, she also charged 1,000 (AUD) an hour so having the chance to ask questions 1:1 is priceless and is free with the membership!
​
Don't miss out on grabbing Leonie's membership as it's closing soon!
​
You get access to ALL of her courses, workbooks & group coaching including:
​
· Sales Star e-course (usually $297)​

· 40 Days To Create & Sell Your E-Course (usually $197)
· 40 Days To Finish Your Book e-course (usually $197)
· Money, Manifesting & Multiple Streams of Income e-course (usually $197)
· Marketing Without Social Media workshop (usually $99)
· Get Organised! course (usually $99)
· Work Less, Earn More workshop (usually $99)
· How To Hire & Manage A VA workshop (usually $99)
· Success Habits for Biz Owners (with Tash Corbin) (usually $99)
· Behind The Scenes of a Multi-Millionaire's Finances (usually $7)
· My Brilliant Year Business e-workbook (usually $9.95)
· My Brilliant Year Life e-workbook (usually $9.95)
· Goal Getter To Do List Planner (usually $9.95)
· Goal Getter Weekly Planner (usually $9.95)
· Calm Christmas Planner (usually $10)
· SALT romance novella (usually $3)
· 2+ new workshops released each year (usually $199)
· Monthly group coaching calls with Leonie (valued at $997)
​
​Total value? More than over $2,500!
Check out everything you get on the sales page.
BONUSES! If you purchase the Brilliant Biz + Life Academy, you can choose from one of three options.
​
✨ BONUS OPTION 1: Choose TWO deluxe bonuses from my bonus page .
​
✨✨ BONUS OPTION 2: Choose either a one panel custom art portrait which I will design for you based on the photo you provide or a 24 pack of custom created individually pre-cropped clipart in a theme of YOUR choosing.
​
✨✨✨ BONUS OPTION 3: Book a a 30 minute "Pick My Brain" Intuitive Business Coaching Session. I've worked with everyone from Jane Goodall to Jennifer Hudson so this is a super sweet bonus, especially since I am only offering coaching via bonuses at this time. I need to update my testimonial section but check out some of my reviews here.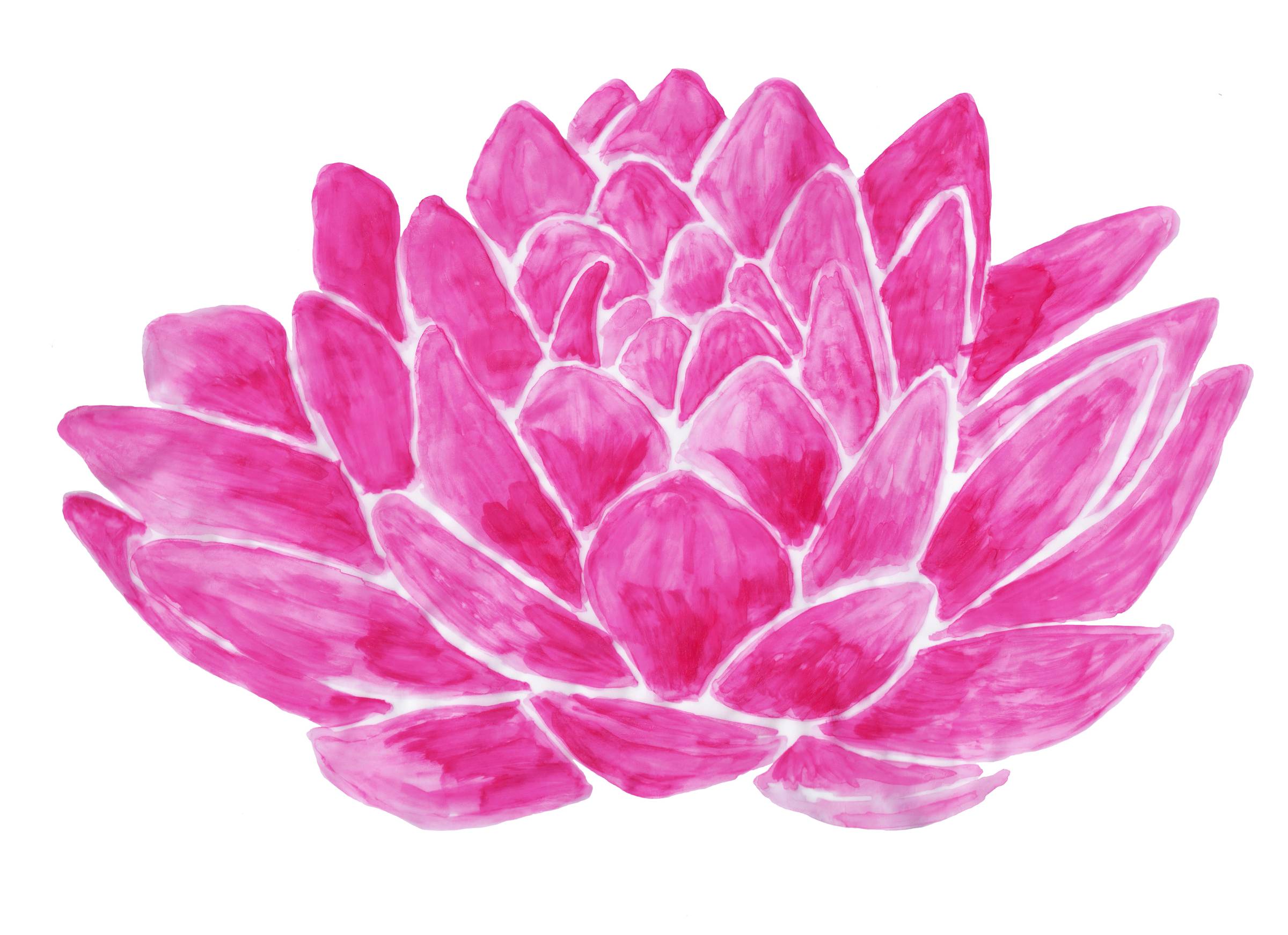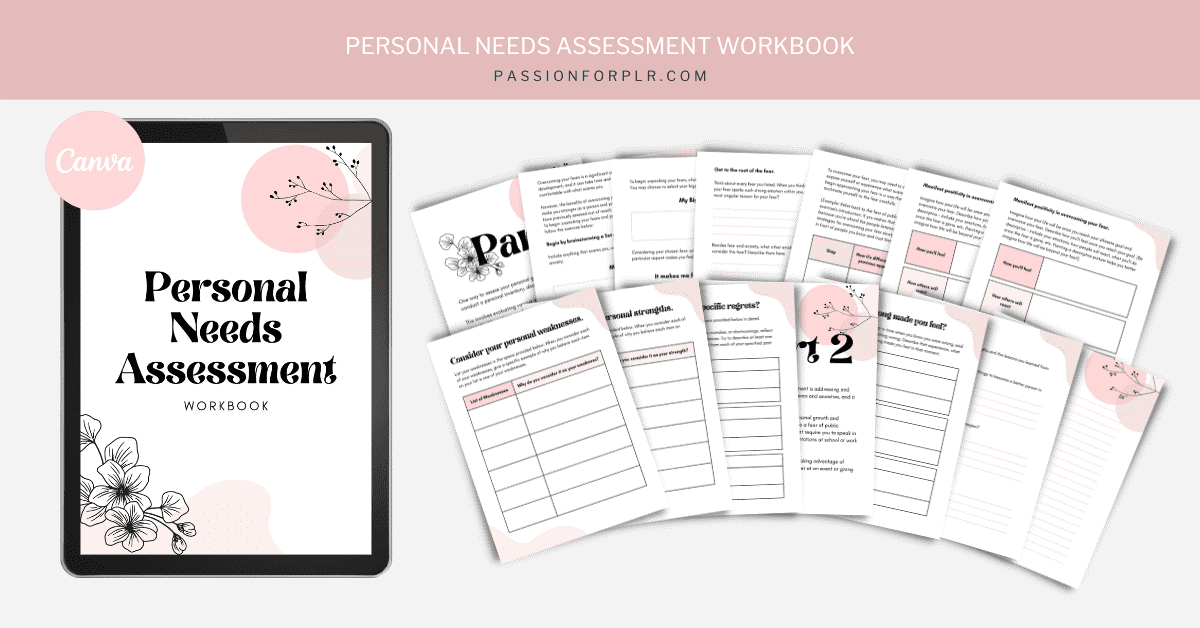 Jenn Brockman has an awesome Personal Needs Assessment Workbook with private label rights which is designed to help assess personal growth and development.
​
The workbook provides an easy-to-follow guide to help you create a comprehensive self-audit for yourself or for clients.
​
With plenty of space for reflections, this workbook will enable clarity and provide a roadmap to reach your goals.
This workbook includes 15 templates that will help you assess various aspects of your personal growth and development.
From identifying your strengths and weaknesses to setting goals and creating an action plan, this workbook will guide you through the process step-by-step.
The best part? It comes with private label rights so you can edit these templates with Canva's free account to make them truly your own. And with a size of 8.5 x 11 (US letter size), the workbook is easy to print and use whenever and wherever you need it.
Here's what you can expect to find in the Personal Needs Assessment Workbook:
• A comprehensive self-assessment questionnaire to identify your strengths and weaknesses.
• Goal-setting templates to help you create SMART (Specific, Measurable, Achievable, Relevant, and Time-bound) goals.
• Action plan templates to help you break down your goals into actionable steps.
• Reflection prompts to help you stay accountable and track your progress.
Whether you're looking to improve your personal relationships, advance your career, or simply become the best version of yourself, the Personal Needs Assessment Workbook can help you get there.
Right now, grab the Personal Needs Assessment Workbook at a special introductory price for a limited time.
Regularly $27 use Launch Code: NEEDmar gives to take 50% off until March 31st.

✨BONUS - If you purchase Jenn's workbook, choose a regular bonus from my bonus page.
​HAPPY SPRING OFFERING​
​
Katherine has just released her Happy Spring Design Kit from her Limitless Design Kits Monthly Membership and it's perfect for everything related to Spring, Easter and Mother's Day.
This month's theme features iconic motifs in a soft color palette. In the kit you'll also find watercolor splashes, matching boho-style rainbows, and carefully coordinated geometrics that work nicely with the subtle motifs, or alone in more sophisticated designs.
You'll automatically receive $482 worth of bonuses that come with MRR rights, meaning you can turn these kits around and not only sell them commercially, but as PLR without restrictions!
​
MRR or master resell rights means you can sell these items commercially to others who can also sell them commercially. Normally, with PLR, you can sell them to others for personal use only.
​
This means you can use these products to create your very own PLR. It's also perfect if you've been wanting to get into a bundle but don't have a creative bone in your body and aren't sure what you would be able to offer with PLR rights - now you'll be able to thanks to Katherine's gorgeous resources.
​
These design kits are only available for one month inside the membership so you have until March 14th to pick these up. Katherine will then be offering them for sale at the current regular price of $97.
​
Best of all, you can use these elements without fear of infringing on someone's license, which is much more generous than a standard commercial use license, and use them for to create PLR digital products, physical products, and templates (to name a few) - and yes, even stickers!
Check out everything you get on the sales page.
✨BONUS - If you purchase Katherine's kit using my link choose a deluxe bonus from my bonus page. You can also save your bonuses for upcoming collections.
​
Michelle Rohr and Maria Alejandra have teamed up to create the super gorgeous Pretty Email Kit.
​
If you're on Michelle's newsletter, you know receiving an email from her is like stepping into the pages of a magazine.
​
In our Planner Girl Insiders meetup last month, Michelle showed us how she makes STUNNING emails and our entire group were oohing and aahing over how beautiful they were.
​
I'm wondering if that's when she got the idea to create this kit. Michelle is an action taker and puts things into motion FAST which is one of the things I love about her.
​
If you're used to writing long, verbose, not-so-pretty walls of text (um, I feel personally attacked 🤣) you'll want to grab the Pretty Email Kit while it's on early bird pricing for only $48.
This kit is perfect for online business owners who want to uplevel and beautify their email newsletters. Inside, you'll find templates to create beautiful welcome emails that will leave an amazing first impression. You can promote everything from a course, your new podcast, YouTube videos, planners - even share with your audience what you've been up to lately.
​
You'll receive stunning Canva templates and Michelle and Maria will walk you through how to send emails that both you and your subscribers will LOVE, even if you don't have a huge audience.

✨ BONUS: If you buy the Pretty Email Kit using my link, choose two deluxe bonuses from my bonus page.
​THREE YEARS OF FREE CALENDARS!​
​
Fran from the Happy Journals has some gorgeous new freebies out.
​
​The Arty Splash Themed Templates PLR Pack includes:
2023 calendars

2024 calendars

2025 calendars

Simple Notepapers

70 Bonus Stickers

In three sizes (6x9", 8.5x11" & A4)
If you're interested in upgrading your pack, the matching premium pack contains:
10 Planner and Journal Templates

10 Printable Templates

10 Checklist Templates

A Digital Planner
Fran also has the stunning new Cherry Blossom Themed Template PLR Packs​
The free pack includes:
2023 calendars

2024 calendars

2025 calendars

Simple Notepapers

In three sizes (6x9", 8.5x11" & A4)​
The matching premium pack contains::
10 Planner and Journal Templates

10 Printable Templates

10 Checklist Templates

A Digital Planner
For the premium Arty Splash Themed PLR Pack, use coupon code ARTYMARCH to bring the price down from $27 to $15 ​
For the premium Cherry Blossom Themed PLR Pack, the coupon code CHERRYMARCH to bring the price down from $27 to $15.
​
This discount is valid until March 16th.
✨BONUS - Grab either of Fran's premium PLR packs and pick a regular bonus from my bonus page. You can also hold onto your bonuses as they don't have an expiry date. (I will be updating my bonus page soon!)
​NEW: FREE Mega Sublimation Bundle​
Fantastic Monthly Memberships to Grow Your Biz:
​
​Most of these memberships qualify for a bonus so check out the Bonus Key below!
To claim your bonus, please email me at lara@talesfromtherouge.com with BONUS in the subject line.​
​
​Amy (Fruitful Freelancing) Low Content Intel Subscription - $19.95 mo/$195 yearly. (B/BZ30)
​
Angela Wills' Email Practice Club - $20/$200 yearly. (B/BZ30**)
​
Becky (PLR Beach) Business Beach Club Member and Pro Member - $29 or 99/month (DB/BZ30)
​
Britt Malka Email Hero Membership - $20/month/$200 yearly. (B/BZ40)
Cherina of Cherie La Vie Designs - Digital Seller's Success Club $12/month
​
D'vorah (Share Your Brilliance) Content Creation Club - $27/month (See above for deets!) (B)
Faith (Faith's Biz Academy) Canva Templates Vault - $9/month ($197 one-time fee) (BZ40)
Gabby (Cup of Zen) Spirit Animals Monthly Membership - $15/month
​
Julie Hall's KDP Creators Clu, $37/month (DB)
​
Katherine (Oasis Lane) Limitless Design Kits Membership $27/month (See above for deets!) (DB)
​
Leonie Dawson's Brilliant Biz + Life Academy $99/year. (See above for deets! - BZ30)
Liz Wilcox Email Marketing Membership - $9/month
Melanie (Bittyspire) Club Pin $10/month (See above for deets!) (B)
Melissa Rezza Cookie Jar - $24/mo (B)
​
Melody (PLR of the Month) Kitchen Sink PLUS $27/month (B)
Michelle (Secret Owl Society) Planner Girl Insider's Membership (Onetime fee for Lifetime access: $300 flat or $50 x 6 months.) (BZ60)
Mim Jenkinson's Create + Co-Work Club - $19/month
​
Lady Rayven's Abundability's 1111 Club - $11/month. ​
​​
Sue (Createful Journals) Monthly Inspiration Templates & Journal Prompts $7/month
​
Sue (Createful Journals) Pretty Printables Club $10/month
​
​
*BONUS KEY:
B - A painting from my Etsy store with commercial use!
DB - A bonus from my bonus page. ​
​BZ30 - A 30 minute Intuitive Business Coaching Session* (*Check out some of my testimonials here.)
BZ40 - A 40 minute Intuitive Business Coaching Session*
BZ60 - A 60 minute Intuitive Business Coaching Session* ($300 flat fee option)
​
*All bonuses are one-time and not recurring.
**Please allow for payment to clear for any memberships that offer a refund policy. (ie: Angela Wills.)
Thanks so much for being part of my newly-blossoming list. I'll be back soon with more great offers, stories and special gifts just for you.
​
​Happy Tales!
Lara xo
My name is Lara and I'm the owner of Tales From the Rouge - inspired by a magical enclave in the Rouge Valley in the east end of Toronto, Canada. I'm a writer/television producer and a wife and mom who loves photography, crystals, and my ever-expanding collection of typewriters. I'm inspired by nature on a daily basis and draw inspiration from my surroundings which trickles down to my creations.
​
​Amazing Freebies and Deals:
​
​Gabby's 2023 Dated Moon Calendar​
​Sue's Freebie Page
​​Carmen's Free Weekly Goal Planner Kit​
​Chelsea's Free Camping Sample Pack​
​Faith's Floral Planner for 2023​
Creative Fabrica:
​
​Creative Fabrica's $5 All Access Yearly Membership Deal​
​Creative Fabrica $1 Deals​
​The Watercolor Clipart Bundle​
​The Springtime Crafts and Fonts Bundle​
​FREE Curly Font Bundle​
​FREE Springtime Crafts Bundle​
​FREE Creative Font Collection ​
​FREE Calligraphy Special Bundle​
​FREE Wedding SVG Mega Bundle ​
​FREE Mega Watercolor Bundle
​FREE St. Patrick's Day BIG Sublimation Bundle​
​FREE Handwriting Font Bundle​
​FREE Fancy Display Font Bundle​
​FREE Ultimate Watercolor Bundle​
​FREE Cute and Funny Font Pack Bundle
​FREE Lovely Girly Collection
​FREE Vibrant Crafty Bundle​
​Cute Crafty Fonts and Clipart Bundle​
​Sweet Watercolor Bundle​
​Happy Winter Graphics Bundle​
​Fantastic Fonts Bundle​
​Huge SVG Bundle​
​Calligraphy Collection ​
​Ultimate Collection Font Bundle​
​Mega Sublimation Bundle​
​Vintage Font Collection​
​Hand Lettered Font Bundle​
​
You are receiving this newsletter after signing up for one of my paper packs in a free or paid bundle or giveaway. I hope you'll stay and enjoy my newsletter containing useful health and wellness tips, fun stories along with awesome promos and gifts! However, if you don't want to stick around, just hit that unsubscribe button at the bottom of this email. I do hope you hang out for a bit to see what the fuss is all about!​
​
Disclaimer:
I often recommend products and services that I use or that have been recommended to me by people I trust. In many cases these recommendations are accompanied by an affiliate link, which provides me with a referral commission if you click through and make a purchase.
The information presented here is for educational purposes only. Before taking any action that may affect your health, finances, or well-being, please check with your own doctor, health-care provider, financial and business advisers. Always do your own due diligence.